I took a long trip to rifle hunt the rut in NE and SD and it just couldn't have gone a lot better. First I was to be at Gobble N Grunt Outfitters in NE, and I was able to take a very heavy horned old 10 pointer on the first morning as he pushed a doe behind my treestand at 35 yards. My plan was to take the first mature deer I saw and then hunt for a really big one on my second tag.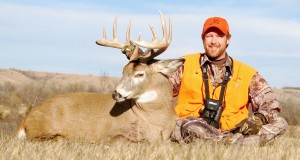 That didn't take long as on my second afternoon just sitting on an open hill watching a creek bottom, I had a run in with a huge buck. He pushed a doe through an opening, but never gave me a quality shot. Then 15 minutes before dark, he showed back up. He raked a tree, moved a doe around, etc., but he never gave me an open shot. Then his doe moved into a cut corn field headed for standing corn, and he followed. I didn't have anything but a frontal shot, and I took it with my .300 Win TC at about 275 yards. He crumbled on the spot.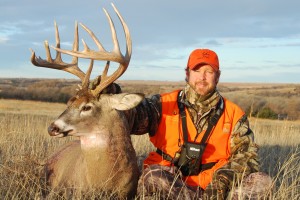 When I got to him, I was pleasantly surprised as he was a typical 6×6 with a few cheaters. I thought he was a big 10 when I shot. The buck ended up being one the guys at GnG had lots of trail cams of, and they had just named him "Stud". That is was. The big old NE buck grew 180″ of antler.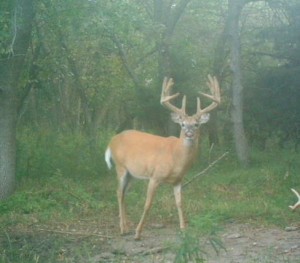 Next I drove 4 hours north to hunt with Dakota Trophy Hunt and Tom Trask in SD. The first 3 days we saw and turned down several really nice mature bucks, but I hated to end things quickly, and I knew they had some really good deer. The fourth and final day dawned clear and cold at minus 13 degrees without windchill. It was miserably cold. We saw a great 10 pointer but couldn't get a shot, and late morning we got in on a nice mature buck tending a doe in a cedar thicket. I was able to drop him in his tracks at about 100 yards, and my SD tag was filled. He was a great old buck with a  very cool 8″+ brow tine.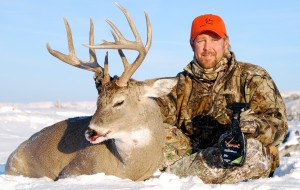 In 6 hunting days we took 3 great bucks on camera, and possibly my best buck ever. It was a great trip, no doubt.
Hunt Hard…Tim H.